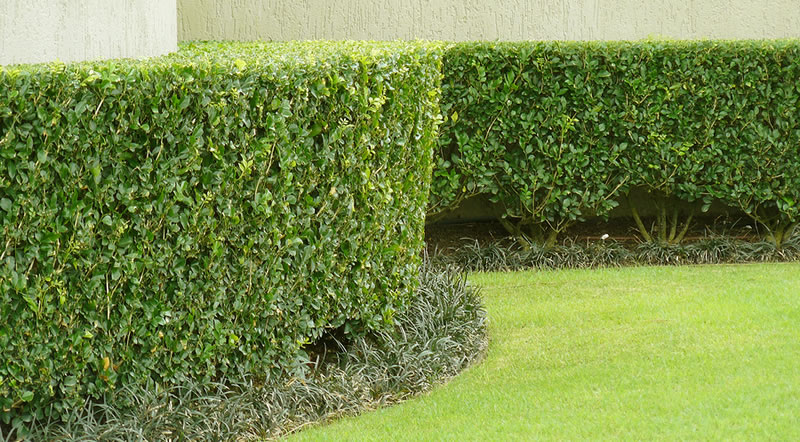 Hedge And Shrub Trimming And Pruning Services
We specialize in keeping shrubs and hedges trimmed and healthy
Hedges, shrubs, and trees don't stop growing and in order to keep them healthy and uniform looking with even growth it's important to keep them trimmed (or pruned).  The dead and dying branches should be trimmed away and the new growth should be properly pruned to improve their appearance and encourage healthy growth.
What Type Of Pruning Do You Need On Your Property?
Do you have a large privacy hedge that needs to be trimmed?
Do you have many smaller bushes or shrubs that need to be trimmed?
Are you trying to remove tree branches that are close to your home?
Are you trying to restore the view through your windows?
Green Acres Lawn & Landscape is a licensed and insured Kansas City landscape maintenance company that specializes in trimming and pruning hedges, shrubs, bushes, and small trees.  Whether you need to prune a privacy hedge that is growing out of control, trim all the boxwoods along your driveway, shape all of your garden shrubs and bushes, or trim up the trees on your property we'll be able to help you bring your property back into a manageable state.
Hedge, Shrub, And Bush Species We Specialize In Pruning
Cedar hedges
Boxwoods
Junipers
Yucca
Arborvitae
Yew
Viburnum
Barberry
Cotoneaster
How Our Pruning & Trimming Process Works
There are limits to the tree work we can do for our clients and it's usually limited to what we can "safely do".  We can only prune and trim trees and hedges that we can reach with a ladder.  If a ladder is not possible we can recommend a local tree company who can take care of any dangerous tree trimming.
We start with our initial consultation.
We will listen to your requirements, making any necessary suggestions.
We will work with you to determine the trees and shrubs that need pruning.
We show up on the scheduled days and prune and trim your trees and shrubs as promised.
We will remove all of the trimmings and dispose of them at a green waste facility.
The end result is healthy trees and shrubs with a clean, uniform look.
The final cost of your tree and hedge trimming will be determined by size and condition of the existing trees and shrubs.  We'll also need to consider the site accessibility. We'll only be able to provide you with an accurate estimate for planting and maintaining your trees and shrubs after a thorough site inspection.
If you'd like to get an estimate to trim your hedge, trees, shrubs, or bushes please give us a call (913) 422-5111 or fill out our online contact form and we'll get back to you right away.